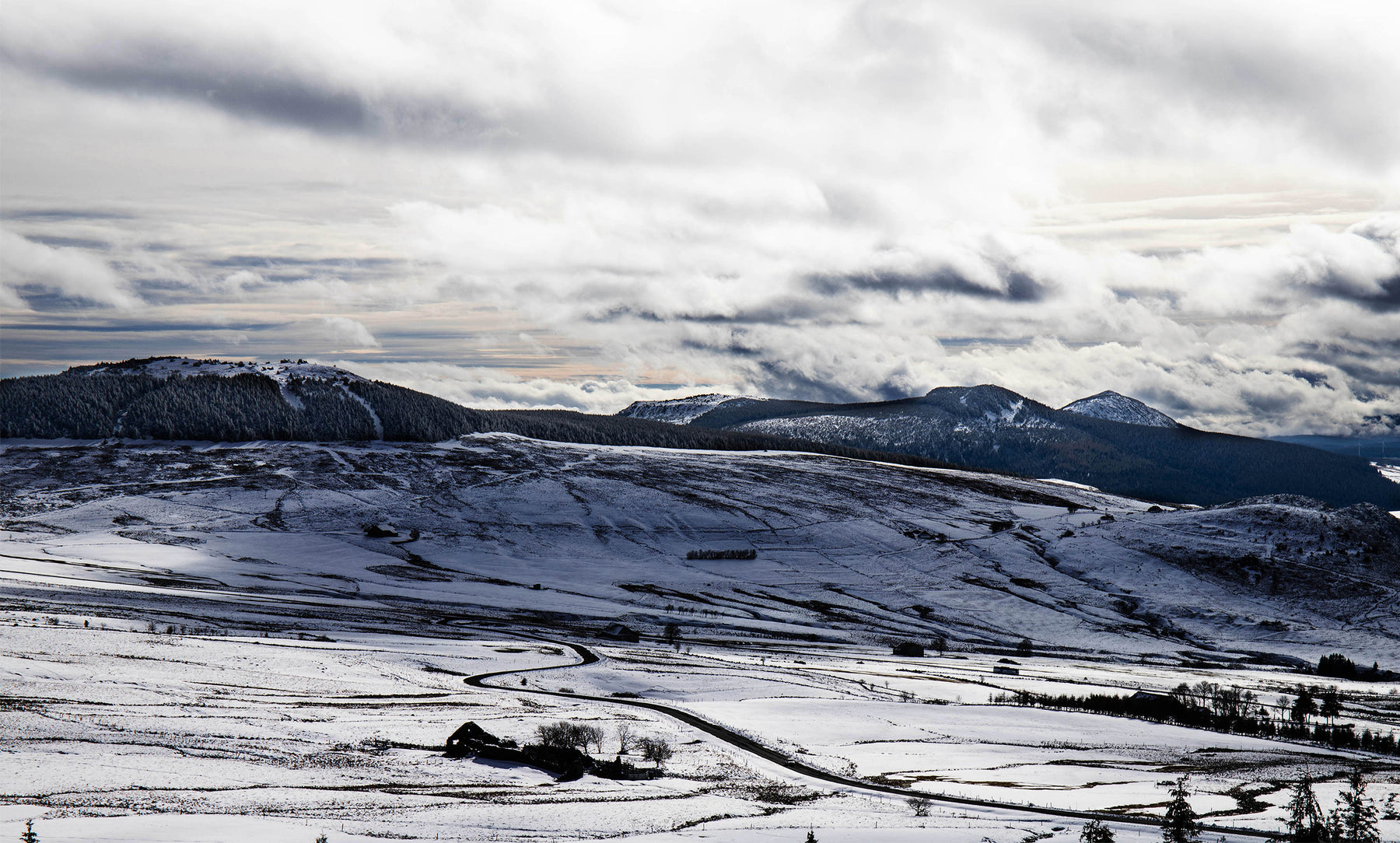 lundi's Journey - Saint Agrève, Ardèche.
Saint-Agrève is a small village planted on Mont Chiniac in the north of the French Ardèche department. A geographical location which has many advantages. If the reputation of this magnificent region is well established, especially for enthusiasts of outdoor sports, going there in the month of February is a whole different experience.
There is no doubt that the small roads that wind through the heart of this hilly landscape are not for nothing in this feeling of total change of scenery. A destination that must be earned. And even more so when the road is covered with a small layer of snow and ice, a natural way to remind you that this village rises to more than 1,000 meters in altitude.

At the bend of these many turns, magnificent buildings regularly appear to us, proud and imposing. To get to the one who welcomed us for our stay, we had to leave the village, take a small departmental road before leaving it for a dirt road winding through the heart of a pine forest. A few hundred meters to go and the welcome was prodigious: in the middle of a clearing, an imposing farmhouse for our greatest pleasure. The isolation is total, the omnipresent nature, the majestic colors and the silence so soothing.
Our installation in this house was very smooth. The interior of the house is bathed in soft light. The shaving sun of February delicately enters through the deep openings of the windows. The atmosphere of this renovated farmhouse is a gentle blend of modernity and authenticity. The generous volumes are full of antique furniture: a school bench, an old oak desk or a set of wooden cinema armchairs… Ultimately reassuring objects, which give us the delicate impression of having always been there waiting for us.
Discovering this nature asleep by the recent snowfall is a real pleasure. The crunch of the snow under our feet is a sensation that we will never get tired of. The discovery of Mount Mezenc and its plateau of fir trees is breathtaking.
Then the snow will quickly recede, reminding us that at this altitude and even in the dead of winter, temperatures can quickly turn positive. A whole different atmosphere sets in. The forest takes on color. The carpets of ocher leaves replace the pristine white of the snow, as if spring was trying to settle down before its time. The mountain lakes are superb: calm and majestic, they transport us to a grandiose universe that has nothing to envy to Canadian settings.
Traveling is always a unique experience. A special moment that we will never get tired of.
Photo : @lundistudio
They accompanied us during this journey : The lundi Voyager bag Remington, the 36-hour travel bag Bellecourt, the laptop sleeve Sandro and the wallet Charles.